Are you searching for a tabletop griddle that is portable and easy to use? Being able to cook in your backyard or when on a camping trip is a real treat. Blackstone has created several types of portable grills that come with a wide range of features.
On the face of things, the Blackstone Tabletop Portable 17″ and the 22″ griddle versions look rather similar. However, they boast a range of differences that should be investigated in detail.
So, to find out which model is truly the best, let's get right into our Blackstone Tabletop Portable Griddle 17″ vs. 22″ review.
Specifications
Blackstone Tabletop Portable Griddle 17

Our rating:
(4.5 / 5)
CHECK PRICE ON WALMART
This model features one H-shaped burner and provides you with 12,000 BTUs of power. You are provided with 260 square inches of cooking space. The construction material is black powder-coated with a cold-rolled steel cooking surface.
This model only requires a tiny amount of storage space, making it easy to transport and store in your RV. The overall dimensions are 17.5 inches by 18 inches by 8.5 inches. And as an added bonus, it weighs only 25 pounds.
Blackstone Tabletop Portable Griddle 22

Our rating:
(4.5 / 5)
CHECK PRICE ON WALMART
The 22-inch model delivers 24,000 BTUs of power over two H-shaped burners. This griddle boasts an impressive 330 square inches of cooking space in a compact space while the construction materials are identical to those of the 17-inch version.
While a bit larger, this model is still relatively compact and great for storing in small places. The overall dimensions are 22.5 inches by 19 inches by 9 inches. While the total weight of 32 pounds is quite heavy, it is still manageable.
Top Features
Blackstone Tabletop Portable Griddle 17
This model is set with an electric igniter, which ensures a smooth start. You are also provided with a one-pound propane bottle to use as an energy source. This means you can virtually take this model to any location effortlessly.
This model has a rear grease trap, which helps to make the cleanup process quick and easy. The griddles are super durable and easy to clean after use. The H-shaped burner also delivers very even heat distribution.
Blackstone Tabletop Portable Griddle 22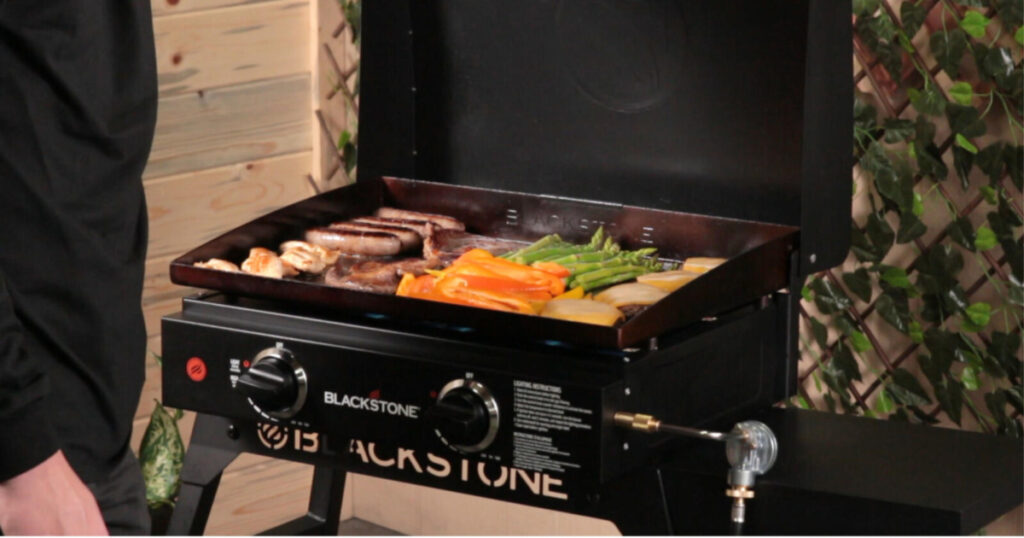 This model features a pair of H-shaped burners that allows these burners to be adjusted independently. This allows you to cook a number of different types of foods at the same time.
Like the Griddle 17, this model also comes with a built-in ignitor. The rear grease management system directs the grease to the grease trap. The grease trap is significantly larger, meaning that you won't need to clean it out as often. Aluminum mini loaf pans work great on this model as a grease trap liner.
Build Quality
Despite differences in size, both of these models include the same build quality. They're made of the same quality materials, and the main features are roughly the same. As a result, you can expect that the durability of these two griddles to be roughly the same.
Cooking Surface
In ways of total cooking space, the Griddle 22 comes out the winner. It provides you with 330 square inches of cooking space compared to the 260 square inches of the Griddle 17. If you're a strong believer that bigger truly is better, the Griddle 22 is the obvious choice.
Overall Performance
Both of these models use propane, however, you are sure to find that the Griddle 22 heats up more quickly. This is due to the fact that it delivers 24,000 BTUs compared to 12,000 BTUs of the Griddle 17.
The two burners of the Griddle 22 also provides more flexibility when cooking. Setting each of the burners to a different temperature allows you to cook different types of food at the same time. Each burner can be adjusted independently for super easy convenience.
Why Buy a Blackstone?
Blackstone Tabletop Portable Griddle 17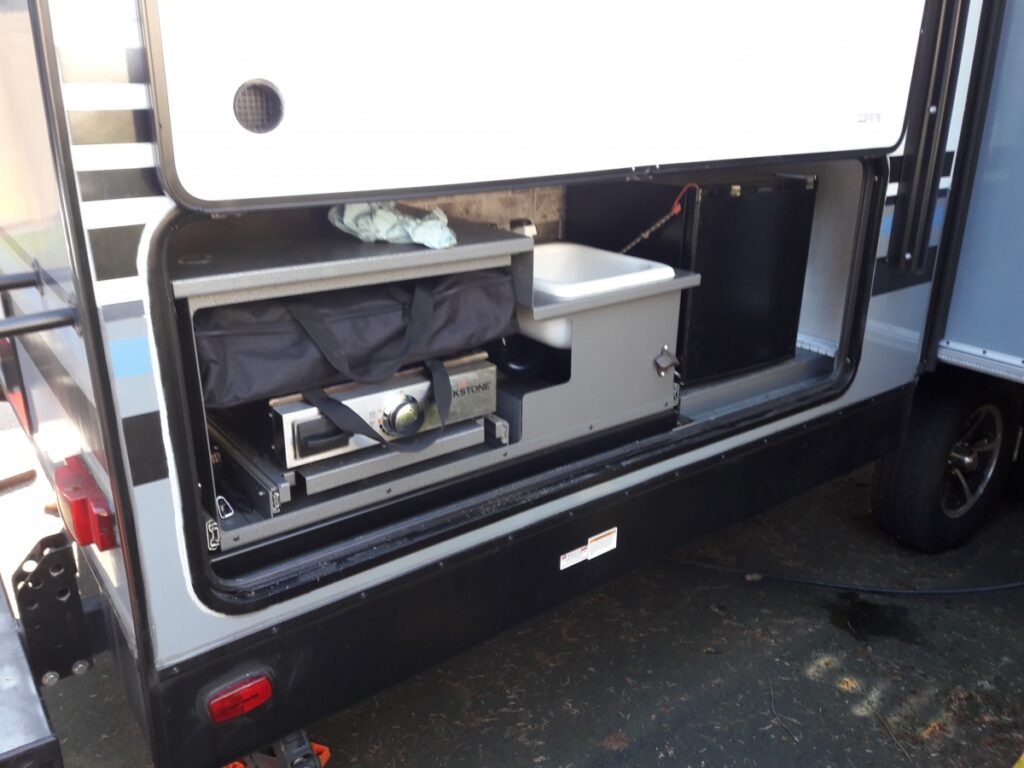 If you have a tight budget and are looking for a griddle that is truly portable, this model is a real steal. The griddle is extremely high quality and has a heavy build that is sure to last a long time. After use, you can flip the griddle top upside down to store it. This means that it will take up considerably less space if that is important to you.
The powder-coated finish protects from rust or other types of corrosion. The flat base of this model allows it to be placed on any type of surface. Even if your tabletop is small, you will find that this model is the perfect fit.
Blackstone Tabletop Portable Griddle 22
Of course, the 22″ griddle is significantly larger than the 17″ griddle. However, it is more than the size that really makes this model stand out. The 22″ griddle has the same innovative features as the 17″ griddle, with a few extra things thrown in. The heat-resistant handle is a feature that you will definitely appreciate.
The rear management grease system helps to eliminate mess, both during and after use. The griddle top helps draw grease away from your food during the cooking process to help make your food leaner and healthier. It takes just a few minutes to set up this model, even on uneven ground. Once you're set-up, your food will cook fast and easy due to the twin burners.
Pros and Cons
Blackstone Tabletop Portable Griddle 17
PROS
Black powder coating.
Electric igniter.
Cooks food quickly and evenly.
Compact and easy to store.
Portable and lightweight design.
CONS
Not ideal for large gatherings.
Small drip tray.
Insufficient heat output for certain dishes.
Low performance in windy conditions.
Blackstone Tabletop Portable Griddle 22
PROS
Adjustable burners.
Powder-coated steel construction.
Leveled surface.
Easy to clean.
Large cooking surface.
Large grease tray.
Even heat distribution.